Due to the COVID-19 pandemic, Misericordia Weinlos Library is closed to the public until further notice and we do not have a publicly accessible book drop. NEOS borrowers may request titles from our collection through the NEOS library catalogue and pickup/return materials at their home library.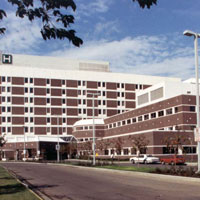 The Misericordia Weinlos Library has a small collection of approximately 1000 titles on medicine, nursing and allied health topics. Covenant Health staff and physicians access electronic information resources through the Alberta Health Services Knowledge Resource Service website.
Location
Misericordia Community Hospital
Weinlos Library, Room 1NW-32
16940 – 87 Avenue
Edmonton, Alberta, Canada T5R 4H5
The Misericordia Community Hospital is located to the east of the West Edmonton Mall. The Library is in Room INW-32 in the north-west wing of the main floor. Paid parking is available on the south side of the hospital.