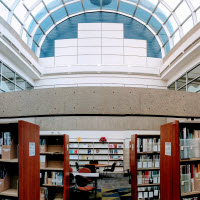 Due to the current public health situation, the Alberta Government Library is closed until further notice.
PLEASE NOTE that we do not have a publicly accessible book drop.
Alberta Government Library (AGL) provides library services to all Government of Alberta departments as well as some boards and agencies. The library's print and digital collections are developed to meet the needs of its government clients, and include a comprehensive collection of current and historic Government of Alberta publications. The library is open to the public and is used by researchers, consultants, post-secondary students and others with specialized information needs.
Hours
Monday – Friday: 8:15 a.m. – 4:30 p.m.
Closed statutory holidays.
No after-hours bookdrop.
Payments
The Alberta Government Library accepts fine payments in cash or by cheque.
Contact
Telephone: (780) 427-2985
Fax: (780) 427-5927
Email: Library.AGL@gov.ab.ca
Website: http://www.servicealberta.gov.ab.ca/alberta-government-library.cfm
Library Staff
Gary Weber, Acting Head, Library & Open Information / Open Information Team Lead
(780) 427-6262
gary.weber@gov.ab.ca
Paul Pype, Digital Services Librarian
(780) 422-4755
paul.pype@gov.ab.ca
Ikram Cheikhi, Open Information Analyst
(780) 427-6149
ikram.cheikhi@gov.ab.ca
Yvonne Chan, Cataloguing/Metadata Technician
(780) 427-0403
yvonne.s.chan@gov.ab.ca
Penny Chu, Digital Services Technician (on leave)
(780) 643-1001
penny.chu@gov.ab.ca
Rhonda Dawson, Acquisitions/Serials Technician
(780) 422-1304
rhonda.dawson@gov.ab.ca
Lisa Drysdale, Cataloguing/Metadata Technician
(780) 415-0573
lisa.drysdale@gov.ab.ca
Blanka Kaiser, Inter-Library Loan Technician
(780) 638-4532
blanka.kaiser@gov.ab.ca
Lorna Guptill, Administrative Support
(780) 415-0351
lorna.guptill@gov.ab.ca
Location
Alberta Government Library
11th Floor, 44 Capital Boulevard Building
10044 – 108 Street
Edmonton, Alberta, Canada
T5J 5E6
Accessible by LRT – exit at Corona Station.